SCIENTOLOGY
THE FASTEST-GROWING RELIGION IN THE 21ST CENTURY
Building for the Future of the Scientology Religion
Building for the Future of the Scientology Religion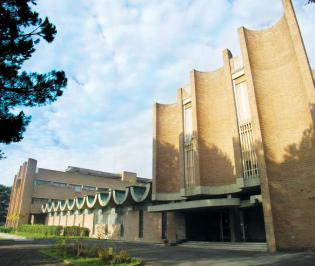 Church of Scientology Rome
(Click image to view slideshow)
Mr. Miscavige is the Driving Force of a Movement Now Spanning This World With Ideal Churches of Scientology.
To exactly that end, he sets the direction for the acquisition, design and planning of new Churches—quite literally from inception to ribbon cutting. In consequence, the horizons of Scientology are filled with scores of new Churches in the making for 2009 and beyond.
Just since the launch of the Ideal Churches program five years ago, 70 new buildings have been acquired in major population centers around the world. Church premises have increased from 5.6 million square feet in 2004 to over 11 million in 2009, with half a million square feet of renovations completed in 2009.
Meanwhile, another half-million square feet are under construction in Brussels, Rome, Tel Aviv, Quebec, Mexico City, Las Vegas and Washington, DC. These are the Ideal Churches of Scientology and they are designed to present the wisdom of Scientology to many millions planetwide.
NEW IDEAL ORG BUILDINGS
Shown here is just a sampling of newly acquired Church buildings, while the listing below includes all new properties now in planning or construction stage to open within the next 12 months.
Albuquerque, New Mexico
Atlanta, Georgia
Battle Creek, Michigan
Boston, Massachusetts
Chicago, Illinois
Cincinnati, Ohio
Columbus, Ohio
Detroit, Michigan
Harlem, New York
Inglewood, California
Kansas City, Missouri
Las Vegas, Nevada
New Haven, Connecticut
Orange County, California
Pasadena, California
Philadelphia, Pennsylvania
Portland, Oregon
Sacramento, California
San Diego, California
San Fernando Valley, California
St. Louis, Missouri
Seattle, Washington
Twin Cities, Minnesota
Washington, DC
Kitchener, Ontario
Montreal, Quebec
Quebec City, Quebec
Winnipeg, Manitoba
Bogotá, Colombia
Caracas, Venezuela
Valencia, Venezuela
Las Lomas, Mexico
Mexico City, DF
Brussels, Belgium
Budapest, Hungary
Copenhagen, Denmark
Milan, Italy
Padova, Italy
Pordenone, Italy
Rome, Italy
Tel Aviv, Israel
Torino, Italy
Verona, Italy
Cape Town, South Africa
Durban, South Africa
Port Elizabeth, South Africa
Pretoria, South Africa
Bulawayo, Zimbabwe
Harare, Zimbabwe
AUSTRALIA/NEW ZEALAND/ASIA
Auckland, New Zealand
Kaohsiung, Taiwan
Melbourne, Australia