The Critical Omission
The Critical Omission
"WE HAVE A DEEP INTEREST IN TALKING TO MR. MISCAVIGE... LIKE I SAID, THERE IS CRITICAL AND THERE IS CRITICAL."
— Joe Childs, S.P. Times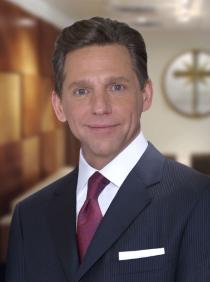 Mr. David Miscavige
Wednesday, May 13, 2009:
More or less out of the blue, Joe Childs telephones Mr. Tommy Davis at 5:12 p.m. EST from the S.P. Times general offices. In essence, Childs is now requesting an interview with Mr. David Miscavige, who was described in a Tobin-Childs profile for the S.P. Times as "The man behind Scientology" [See David Miscavige: The Peacemaker.]
Mr. Miscavige was also described therein as "the founder's protégé and trusted aide." While to millions of Scientologists world over—and this too, from Childs and Tobin—he is "the leader who sets the goals and ensures that Hubbard's policies and teachings are followed with precision."
Moreover, and this in light of manifest Scientology expansion, Childs states: "We know the growth that the Church has achieved in Mr. Miscavige's era." He further adds, "It's not peeping into the mainstream. It is in mainstream America." Childs assures Davis, "That's all part of the story."
Thursday, May 28, 2009:
Responding to an S.P. Times request for in-person discussions, Davis is joined by Church representative Ms. Monique Yingling in Clearwater, Florida. There, they meet with Times reporters Joe Childs and Tom Tobin.
On the table is the formal Tobin-Childs proposal for a David Miscavige interview. Accordingly, Childs brackets the discussion with an admission that:
"We know what our responsibility is journalistically here. And we know what it is to be fair. Let me ask you what seems to be the primary question: Are we going to see David Miscavige today?"
In reply, Yingling explains that Mr. Miscavige is inordinately busy. On March 14, he officiated at the opening of Scientology's newest facility in Clearwater, the landmark Fort Harrison. In the subsequent four weeks, he additionally opened three entirely new Churches of Scientology—one in the Swedish port of Malmö on April 4, another in Dallas on April 11 and still another in Nashville on April 25. He is further preparing for the OT Summit aboard the Sea Org Motor Vessel Freewinds—an annual convocation of leading Scientologists from better than a hundred nations. All told, the Summit sees over nine hours of broadcast presentations by Mr. Miscavige through six consecutive nights. It further sees the release of more than six hours of new Church dissemination and training films on DVD.
The point being: Mr. Miscavige cannot possibly consent to an interview before the first week of July—immediately following the fulfillment of his commitments at the annual Church events. Then, too—and this with some emphasis—Yingling further explains that Mr. Miscavige does not generally speak to reporters. Indeed, his last such interview was with none other than Tobin and Childs themselves. But assuming all is on the up and up:
"I can assure you that Mr. Miscavige has agreed to talk to you and he will do that."
Moreover—and this from Mr. Miscavige himself—until such time as his schedule allows that he can meet with Childs and Tobin, they are to be provided any information requested and to be afforded full access to all Church facilities world over.
It's at this juncture the interview date is set for July 6 and Tobin again declares that Mr. Miscavige is "the critical one."
Whereupon Childs exuberantly admits:
"I did not come into this building and expect to leave with that sentence [promise of an interview] in my pocket."
To which Tobin adds:
"We can assure you we are proceeding in good faith."
Tuesday, June 2, 2009:
In a telephone conversation with Davis, Childs confirms:
"We know you have a date on the calendar and we appreciate that."
Thursday, June 4, 2009:
Childs again confirms the July 6 interview, specifically noting:
"We've got the date on the calendar."
Wednesday, June 10, 2009:
In yet another conference call, Childs inquires as to whether Mr. Miscavige's schedule has changed since they last spoke. To which both Davis and Yingling once more emphasize that Mr. Miscavige cannot change the July 6th date.
Whereupon Childs coyly remarks:
"You can't blame me for asking that, can you?"
Wednesday, June 17, 2009:
Joe Childs telephones Davis and announces that the timetable has shifted and that publication of their article is imminent. Davis is understandably nonplussed and exclaims:
"My God! So you've actually made the decision to not wait and talk to Mr. Miscavige? Is that the decision that's actually been made?"
Whereupon Childs hastily backpedals:
"I didn't say that."
Thursday, June 18, 2009:
In the wake of the previous turnabout, Davis and Yingling conference into a phone call with Childs who immediately concedes he understands that they are "flabbergasted." He then significantly adds:
"This isn't a Joe Childs decision."
"This is an organizational decision."
Childs is then reminded that Mr. Miscavige is now out of the country, bound for the OT Summit and the seven-day convention. Mr. Miscavige is scheduled to speak for six consecutive evenings, and has invested months in preparation.
In a perfunctory reply, Childs admits the S.P. Times maneuver may seem startling, but in their view:
"Mr. Miscavige made a decision that this isn't as important as his other commitments."
To clarify the statement, Yingling asks:
"Do you mean he's supposed to choose between a major event for his religion and an article for the St. Pete Times? That's hardly fair."
Then, following a back and forth with Yingling, who repeatedly reminds Childs that Mr. Miscavige had agreed to the July 6 interview, that they had never said they weren't going to wait and that their sudden turnabout simply wasn't fair, Childs counters:
"How is it not fair?"
Davis also reminds Childs who he is dealing with, reiterating that Mr. Miscavige gave his agreement and:
"He always keeps his word. He always has."
Childs' response:
"I don't doubt that, Tommy."
Whereupon it's like talking to a wall, and Childs adamantly declares:
"We are not waiting until July 6 to talk to Mr. Miscavige."
Friday, June 19, 2009:
But the die is now cast. Childs and Tobin know it is impossible for Mr. Miscavige to meet earlier than the 6th as he is now en route to the Freewinds and the OT Summit events are about to begin. Moreover, Childs and Tobin request to interview more than a dozen Church executives before meeting Mr. Miscavige and those executives have now presented themselves in Clearwater. Thus, Childs and Tobin "run out of time" prior to speaking to these executives. Hence, even if Mr. Miscavige were present, they simply had no time. [See The Brush-Off]
Saturday, June 20, 2009:
With publication imminent, Mr. Miscavige concludes preparations for the first in his series of Freewinds presentations and authors the below letter to Childs and Tobin. It is electronically transmitted to the S.P. Times at 5:50 p.m. EST.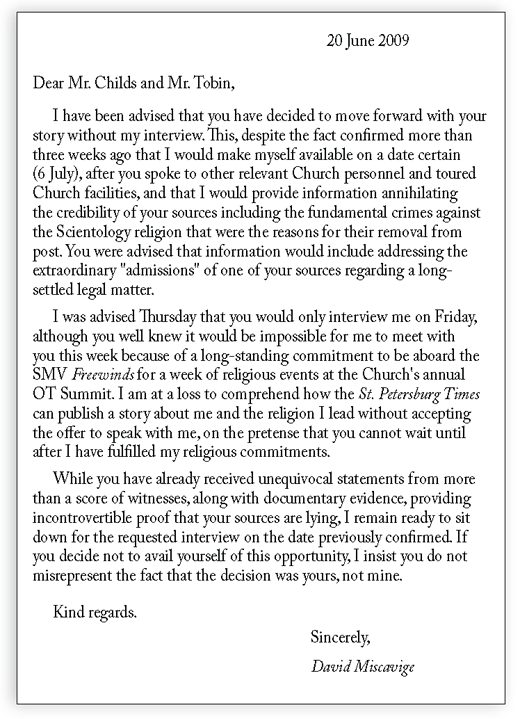 The ensuing article comprises a three-part series and is arguably the first such article in S.P. Times history to profile a world-renowned figure without interviewing that figure. It incites harsh criticism, which is best summed up by the reader who wrote:
"This is how the National Enquirer got its start."
Postscript:
In a clear admission of the fact Childs and Tobin arbitrarily shifted their previously agreed timetable to exclude a David Miscavige interview, nine days after publication of the final S.P. Times installment, Tommy Davis received the following voice-mail:
"Tommy, Joe Childs, it's now Thursday afternoon, Eastern time, 1:15 or so.

"If we are still scheduled to speak with Mr. Miscavige on July the 6th, then we need to know the time and place.

"If it's going to be in Los Angeles, we'd need to know fairly soon to make arrangements. And since we haven't heard, I assume that that's not going to be the case.

"And if July the 6th isn't any longer on the calendar, then we will make requests for an interview when he's available.

"You know how to reach both of us, Tom and I. So, we'll wait to hear from you. Thank you."
In other words, they were requesting to keep the appointment for the interview they had cancelled and for the story they had already published. To which one must ask, who would believe the sheer audacity?