CNN AC360
A History of Lies
A Freedom Special Report
CooperSpeak:
How Terrorists Become "Protesters"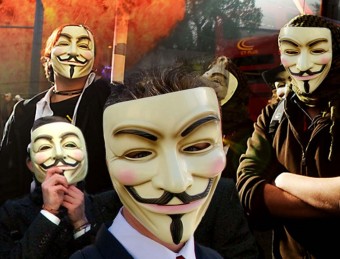 "
The Church says [he] is lying and is out to destroy the religion. He supports a group called Anonymous which promotes an anti-Scientology movement."

—Anderson Cooper
But what Cooper very well knew and chose to ignore, much less inform his viewers, is that Anonymous is neither a "merry prankster" protest group nor anything that would remotely touch the style of a peaceful civil disobedience organization.
Moreover, by merely referencing Anonymous and televising the group's so-called logo, Cooper and CNN were tacitly endorsing a coordinated organization that the U.S. Department of Justice has identified as a terrorist group—with members engaged in hate crimes and convicted of other federal criminal offenses.
Church of Scientology letters and documents sent to Jonathan Klein, president of CNN/US, before the program aired, established three salient facts:
1) The top CNN executive and his chief legal counsel knew all about Anonymous' violent perpetration of hate crimes well in advance of the week-long broadcast.
2) Cooper himself was personally advised as to the true nature of the organization that he benignly called a "protest" group.
3) CNN brass knew that Cooper's principal sources, besides being in league with each other, were allied with and, indeed, some are members of Anonymous.
Point of fact, Cooper's "Kingpin" source is more than just connected to this mob; he is actively furthering their hate-filled agenda, stating in an on-line conversation with Anonymous, "I have your back," and referring to members as "pals."
Another one of Cooper's sources has personally participated in Anonymous demonstrations in front of Churches of Scientology and has publicly endorsed this cyberterrorist hate group in the media and on the Internet.
Any viewer who knew the true nature of Anonymous would find it ironic—as well as disturbing and dishonest—that in the same programs where AC360 spewed the false charges by his anti-Scientologist sources who had joined this hate group, Cooper also reported on the arrest of an automatic weapons-armed Michigan militia group that had been infiltrated by an FBI agent. The group's alleged aim: to ambush and kill police officers.
Federal indictments and subsequent convictions of members of Anonymous speak volumes.
>>FIRST
How the U.S. Department of Justice (DOJ) became aware of Anonymous.
It all began in January 2008 with Anonymous attacks on Church websites, followed by a statement of intent to sabotage the Scientology presence on the Internet.
Threats soon escalated with a video posted on the web in February, in which Anonymous threatened violence against Scientology Churches and parishioners. In the video, Anonymous members were encouraged to read Mein Kampf to prepare for their assault.
That assault included death threats against Scientology leaders, glutting Church phones and fax machines with threats of violence, and engaging in hate speech designed to incite others to violence. Again, documentation of all this and more was provided to AC360 long before the broadcast.
>>SECOND
Results of a DOJ/FBI investigation.
Soon after the initial cyberattacks, federal agencies began to bring Anonymous members to justice.
In November 2009, 19-year-old Anonymous member Dmitriy Guzner was sentenced to a year and a day in federal prison after pleading guilty to participating in the attack against the Church's websites. He was further ordered to pay $37,500 in restitution.
Then in May 2010, Brian Thomas Mettenbrink, 20, received a 12-month federal prison sentence and was ordered to pay $20,000 restitution for his part. During the sentencing, the U.S. District Judge categorized the cyber-assaults against Scientology as a "hate crime."
The gravity of the terrorist activities by Anonymous is evidenced by the scope of the federal investigation, which stands in stark contrast to Cooper's superficial reference to the group as "protesters." It also pierces the veracity of information provided by Cooper's anti-Scientology sources who are members of this hate-mongering group.
According to the U.S. Attorney's Office, the Anonymous cases are "part of an ongoing investigation by the U.S. Secret Service Electronic Crimes Task Force in Los Angeles. The agencies involved in the investigation are the U.S. Secret Service, the Federal Bureau of Investigation, the Los Angeles Police Department and the Los Angeles County District Attorney's Office Bureau of Investigation."
So the obvious question in all of this: If a task force of federal law enforcement authorities is conducting an ongoing investigation into this self-professed hate group, officially labeling it a terrorist organization, why, by any measure of rationality, would a news organization advance and, implicitly, endorse such a criminal group? How could Anderson Cooper posture himself an Anonymous apologist?
The only logical explanation is that Cooper's intentions were to stir up more hate-speak so that he might yet have a follow-up story to counter his precipitous fall in the ratings. And CNN's corporate hierarchy condoned it all.